Delicious
recipes


using

Hokkaido

meats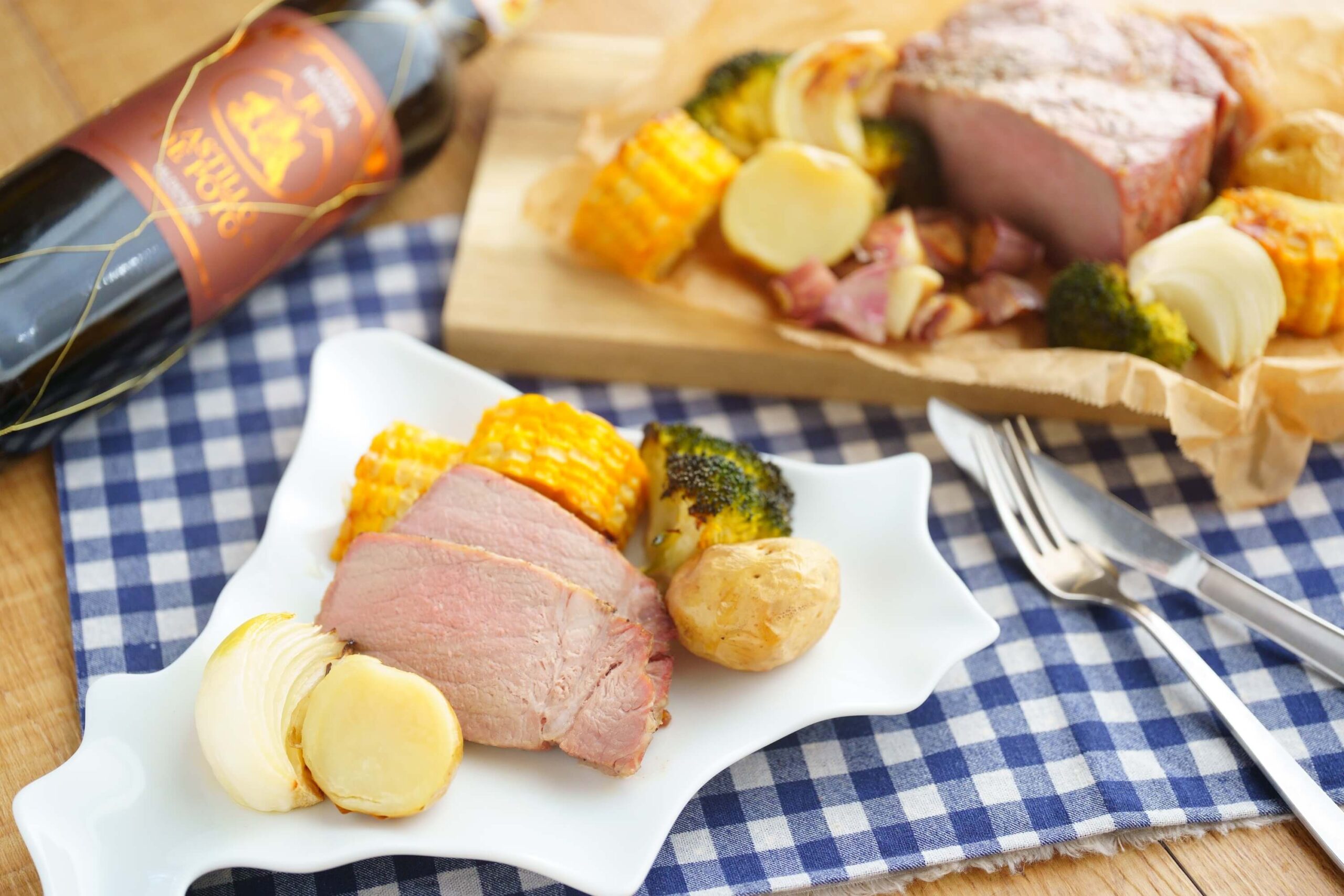 Pork
20 minutes
Grilled Hokkaido Pork Shoulder Roast
Ingredients (For 6 persons)
| | |
| --- | --- |
| Pork shoulder roast (cut into cubes) | 600g |
| Potato (small) | 6 pcs. |
| Corn | 1 ear |
| Onion | 1 |
| Broccoli | 1 |
| Garlic | 4 clove |
| Olive oil | Moderate amount |
| salt | |
| | |
| --- | --- |
| ■ Seasoning for marinated pork【A】 | |
| 【A】Salt | 1・1/2 teaspoons |
| 【A】Olive oil | 2 tablespoons |
| 【A】Garlic (thinly sliced) | 2 clove |
| 【A】Pepper | Small quantity |
| Bay leaf | 1 |
Method
1
Put pork and 【A】 in a zipper bag and rub together. Put it in the refrigerator overnight.
2
The next day, remove the pork from the refrigerator and bring to room temperature.
3
Prepare the vegetables.
Wash the unpeeled potatoes well. Cut the corn into 6 equal parts.Cut the onion into 6 equal parts. Cut broccoli into small florets.
Cut the garlic into 2 halves with the skin on.
4
Spread a cookie sheet on an oven dish and place ② and ③ on the sheet.
Sprinkle ③ vegetables with olive oil.
5
Place ④ in the oven and bake at 180°C for about 40 minutes.
6
Sprinkle salt on grilled vegetables. Slice pork into bite-size pieces.
※Dip The pork in roasted garlic will be even more delicious.

* Cooking time does not include the marinade and stewing time of the meat.